We think you'd be a great fit!
Browse the information below to learn more about us and schedule your interview at the bottom of this page.
Clinician Compensation
0-25 Patients
0-25 patients per week on average will provide a fee split of 55%.
26-30 Patients
26-30 patients per week on average will provide a fee split of 60%.
31-35 Patients
31-35 patients per week on average will provide a fee split of 65%.
36+ Patients
36+ patients per week on average will provide a fee split of 70%.
High Income Potential
GLPG providers enjoy a competitive compensation structure.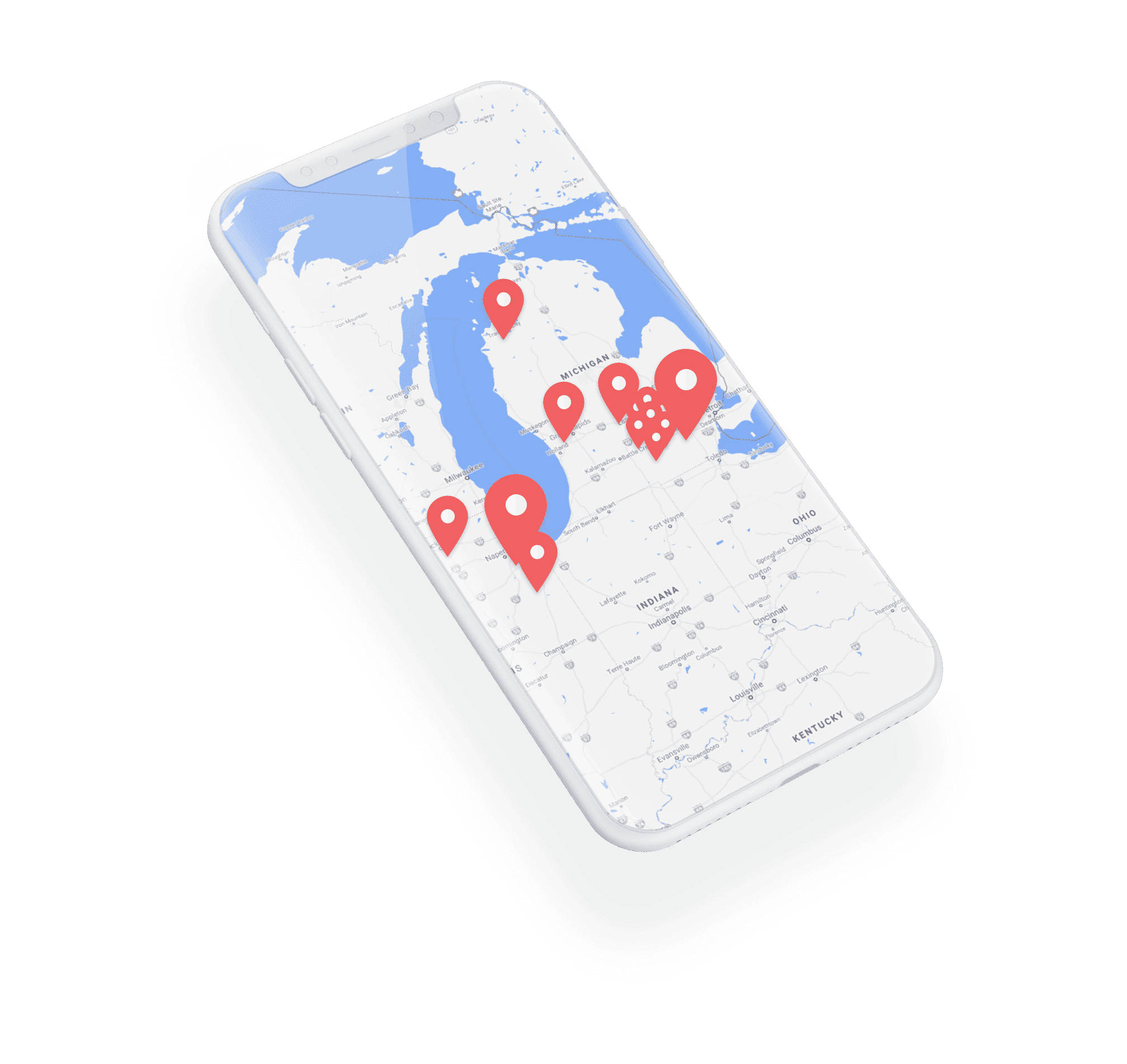 23

Outpatient Clinics & Online Therapy

We have multiple office locations throughout Michigan and Illinois and we offer online therapy services to patients living anywhere in these states.
FAQs & Information
You've got questions, we've got answers.
General
Billing, Referrals, & Marketing
Compensation
Scheduling
What does it mean to be a contractor with GLPG?
If you are unfamiliar with contractor status, here are a few things to keep in mind.
We do not take taxes out of your paycheck each month.
We do not provide traditional employment benefits. Please contact a tax professional to discuss additional benefits eligible to you as a contractor.
Clinicians shall maintain professional liability insurance policy.
Clinicians will provide computer equipment to access EMR.
Does GLPG have a non-compete clause?
No. GLPG does not restrict the ability of clinicians to practice or see patients outside of GLPG. We make it easy and convenient to begin a private practice with us while managing current or future career plans.
Does GLPG have an EMR system?
GLPG uses a paperless browser-based EMR system. This gives you the ability to access, review, and complete notes from anywhere using any device connected to the internet. In addition, the EMR system we've chosen is very user-friendly easy to learn!
How was GLPG started?
GLPG was formed in 2011 by a small group of therapists who shared the same passion for helping others. GLPG is still therapist owned and operated to ensure the highest level of care.
What are the office spaces like?
GLPG provides beautiful office spaces. Each office is furnished with all the furniture needed for sessions, and therapists are able to provide additional furniture and decor as needed. We also provide private waiting rooms with convenient, easy to use kiosk check-in for clients.
Are there Psychiatrists on staff?
GLPG does not have Psychiatrists on staff. Clinicians refer patients out to local psychiatrists and primary care providers who specialize in medication management for behavioral health. We make it easy for clinicians to collaborate with other treatment providers and we keep an updated resource list for clinicians to use when a referral for medication evaluation is needed.
Does GLPG help with credentialing?
Yes, we do. We have a team of credentialing specialists who are dedicated to helping you get credentialed with insurance companies. We'll guide you through the process, help you complete each step, and track each application until acceptance.
Does GLPG offer telehealth services?
Yes. We are excited to offer our clinicians the opportunity to provide online sessions for clients.
Do you offer positions for clinicians who want to exclusively provide online therapy?
Yes! We are currently growing our online therapy services throughout Michigan and Illinois. If you are interested in providing online therapy to patients in either state, we are happy to offer both telehealth only positions and positions where clinicians can split time between in-office sessions and online therapy.
How do patients check in?
When patients arrive at their appointments, they check-in via an iPad kiosk which will alert the clinician. If it is the patient's first appointment, the clinician will verify that the patient's paperwork if filled out prior to greeting them in the waiting area (paperwork is usually completed prior to the patient's first appointment with us).
How long does it take to get started?
Clinicians can get started in as little as 30 days.
Which office locations do you need therapists at?
As we are a fast-growing company, we are often looking to add new clinicians at most of our locations. Clinicians join us and fill up their caseloads fast, needing fewer new patient referrals over time. This allows us to bring on new clinicians on a regular basis and help more clinicians expand their private practices.
We are also adding online-only clinicians to our team and helping them grow their practices!
Are there opportunities to collaborate or consult with other clinicians?
Yes! Whether in-office or online, many of our clinicians have formed peer-consultation groups and regularly consult with their colleagues at GLPG. We also provide virtual collaboration opportunities and access to our entire network of clinicians for discussion and resource sharing.
What are the next steps?
You have been selected to move forward to the next step in our process! We are excited to meet with you for an online interview using Zoom. Simply click here to view a calendar with available dates and times and schedule your interview.
How do referrals and marketing work?
GLPG employs time tested and proprietary marketing strategies to generate high-volume referrals. You can expect to build a thriving practice in as little as 2-3 months using our referrals alone. After you've built your practice, we will always have referrals available if you decide to increase your caseload.
Will I need to do my own marketing, insurance verification, billing or scheduling?
Your focus is 100% on providing psychotherapy to clients. You do not need to worry about acquiring clients, billing, verifying insurance, scheduling new patients, support, or operations. We handle it all! After you meet with a client for the first session, you can work together to find future appointment times that work best for both of you. Once your documentation is entered into the EMR, we'll take care of all the billing and follow-up!
Do clinicians get involved in billing?
Focus on patients and let us handle all the hard work. GLPG automatically bills your claims as soon as you complete the notes. GLPG provides full-cycle billing services on your behalf and collects at a 97% or better rate.
Does GLPG charge a fee for canceled or no-show appointments?
GLPG does not charge for canceled or no-show appointments. However, you are able to administer your own attendance policy and charge a fee if you'd prefer. If you choose to administer your own attendance policy, you may collect and keep 100% of any attendance related fees.
What types of insurance does GLPG accept?
We accept most private insurances and Medicare. We do not accept Medicaid. Some examples of the private insurances we accept include Blue Cross Blue Shield, Blue Care Network, Aetna, HAP, United Behavioral Health, Cofinity, Cigna, Beacon and More!
What is the compensation structure?
All of our clinicians are contractors working on a fee-split structure, (See Clinician Compensation above for more details). The percentage is paid on monthly paychecks (Issued on the 10th of each month) and is tied to the number of encounters/sessions completed in the month prior. Compensation is tied to overall practice size and allows all therapists to increase their compensation automatically whenever the size of their caseload makes them eligible for a percentage increase.
In addition, clinicians who are able to maintain a full-time caseload with minimal referrals from GLPG will earn a 10% bonus for any pay period in which the following conditions are true:
The clinician sees 21 or more clients per week.
The clinician received 10 or fewer referrals generated by GLPG in the last 180 days.
How much can I earn as a full-time clinician?
We offer competitive fee splits and the possibility of an additional 10% bonus if you are able to maintain a full-time caseload independently. Depending on the number of patients seen each week and eligibility for the independent practice bonus, our full-time clinicians typically earn between $55,000 – $200,000+ per year.
How does scheduling work?
You have the freedom to set your schedule and maintain scheduling flexibility. Any exceptions to your preferred schedule require your personal authorization. You choose how many people you want to work with, and you are in full control of your schedule.
How are patients assigned and scheduled?
Each clinician at GLPG has the flexibility to set their own schedule on our Electronic Health Record, or (EHR). The EHR is hosted in the cloud so it's accessible to you and our staff anytime and anywhere. 

We'll also ask you to provide us with detailed information about your specialties and the populations or issues you feel comfortable treating prior to assigning any patients to you.

When a new patient contacts us for an appointment, we'll gather basic information including presenting problem, insurance coverage, and availability and match the patient with an appropriate therapist. 

Then, we will verify the patient's insurance coverage and estimate their out of pocket costs and provide this information to patients prior to their first appointment with you.

We'll also ask the patient to visit our website and complete electronic versions of our new patient paperwork. This includes a consent to treatment form and a payment authorization form (allowing us to put their credit card on file). These forms will then be automatically uploaded to the patient's electronic record.

Whenever a new patient is placed on your schedule, you will receive an email notifying you that you've been assigned a new patient. At that time, you can verify that the patient is a good fit for your practice, and, if necessary, contact our staff with any questions or concerns.
Ready to get started?
Simply click below for available interview dates and times.
Let's go!